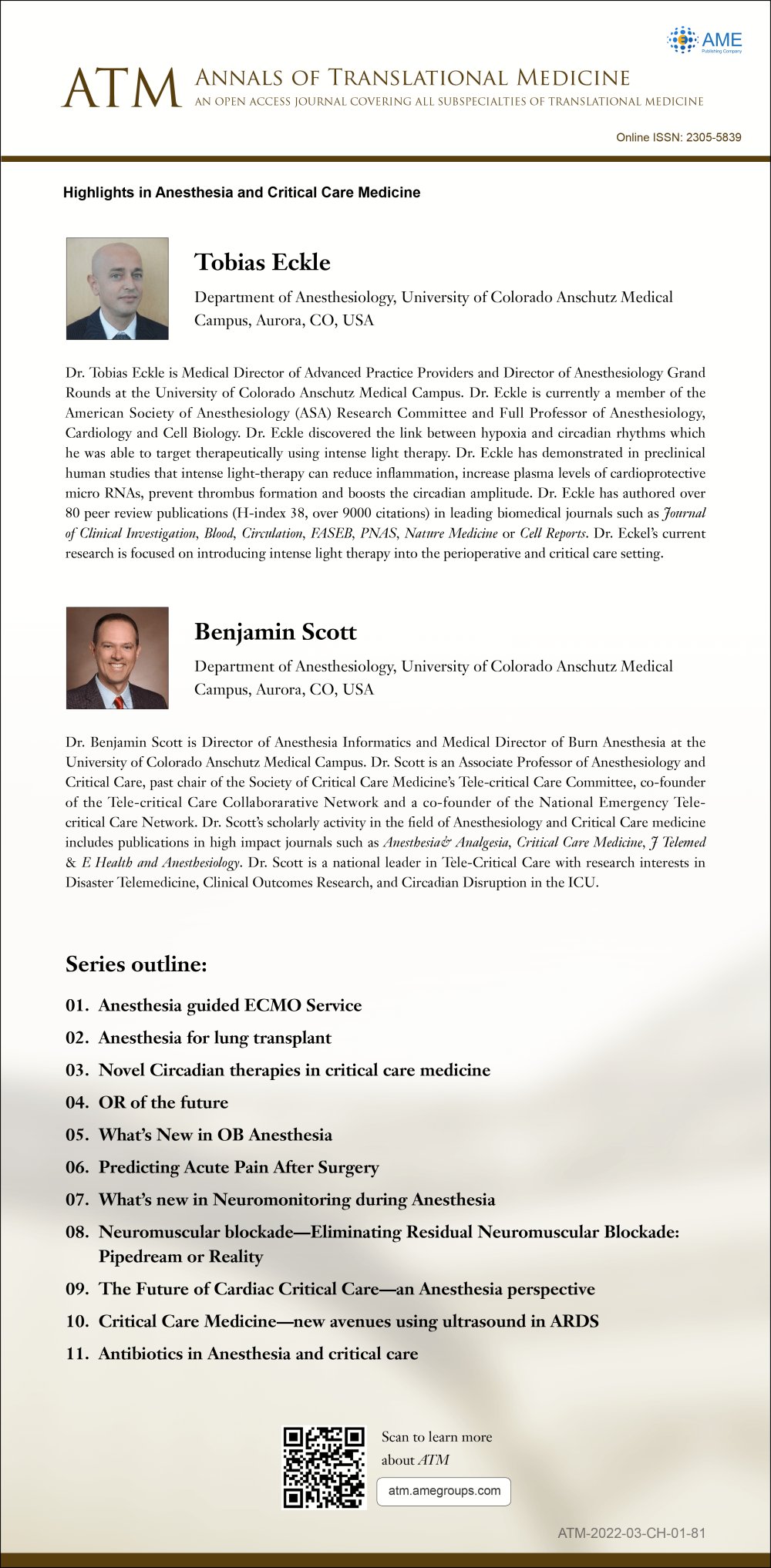 This special series on "Highlights in Anesthesia and Critical Care Medicine" is edited by Dr. Tobias Eckle and Dr. Benjamin Scott. This series aims to provide insight and overviews on 'en vogue' topics in Anesthesia and Critical Care Medicine.
Dr. Tobias Eckle is Medical Director of Advanced Practice Providers and Director of Anesthesiology Grand Rounds at the University of Colorado Anschutz Medical Campus. Dr. Eckle is currently a member of the American Society of Anesthesiology (ASA) Research Committee and Full Professor of Anesthesiology, Cardiology and Cell Biology. Dr. Eckle discovered the link between hypoxia and circadian rhythms which he was able to target therapeutically using intense light therapy. Dr. Eckle has demonstrated in preclinical human studies that intense light-therapy can reduce inflammation, increase plasma levels of cardioprotective micro RNAs, prevent thrombus formation and boosts the circadian amplitude. Dr. Eckle has authored over 80 peer review publications (H-index 38, over 9000 citations) in leading biomedical journals such as Journal of Clinical Investigation, Blood, Circulation, FASEB, PNAS, Nature Medicine or Cell Reports. Dr. Eckel's current research is focused on introducing intense light therapy into the perioperative and critical care setting.
Dr. Benjamin Scott is Director of Anesthesia Informatics and Medical Director of Burn Anesthesia at the University of Colorado Anschutz Medical Campus. Dr. Scott is an Associate Professor of Anesthesiology and Critical Care, past chair of the Society of Critical Care Medicine's Tele-critical Care Committee, co-founder of the Tele-critical Care Collaborarative Network and a co-founder of the National Emergency Tele-critical Care Network. Dr. Scott's scholarly activity in the field of Anesthesiology and Critical Care medicine includes publications in high impact journals such as Anesthesia& Analgesia, Critical Care Medicine, J Telemed & E Health and Anesthesiology. Dr. Scott is a national leader in Tele-Critical Care with research interests in Disaster Telemedicine, Clinical Outcomes Research, and Circadian Disruption in the ICU.
Outline of Special Series on "Highlights in Anesthesia and Critical Care Medicine"
Anesthesia guided ECMO Service
Anesthesia for lung transplant
Novel Circadian therapies in critical care medicine
OR of the future
What's New in OB Anesthesia
Predicting Acute Pain After Surgery
What's new in Neuromonitoring during Anesthesia
Neuromuscular blockade—Eliminating Residual Neuromuscular Blockade: Pipedream or Reality
The Future of Cardiac Critical Care—an Anesthesia perspective
Critical Care Medicine—new avenues using ultrasound in ARDS
Antibiotics in Anesthesia and critical care
Disclosure:
The series "Highlights in Anesthesia and Critical Care Medicine" was commissioned by the editorial office, Annals of Translational Medicine without any sponsorship or funding. Dr. Eckle and Dr. Scott are serving as the unpaid Guest Editors for the series. Dr. Eckle serves as an unpaid editorial board member of Annals of Translational Medicine from Nov. 2021 to Oct. 2023.