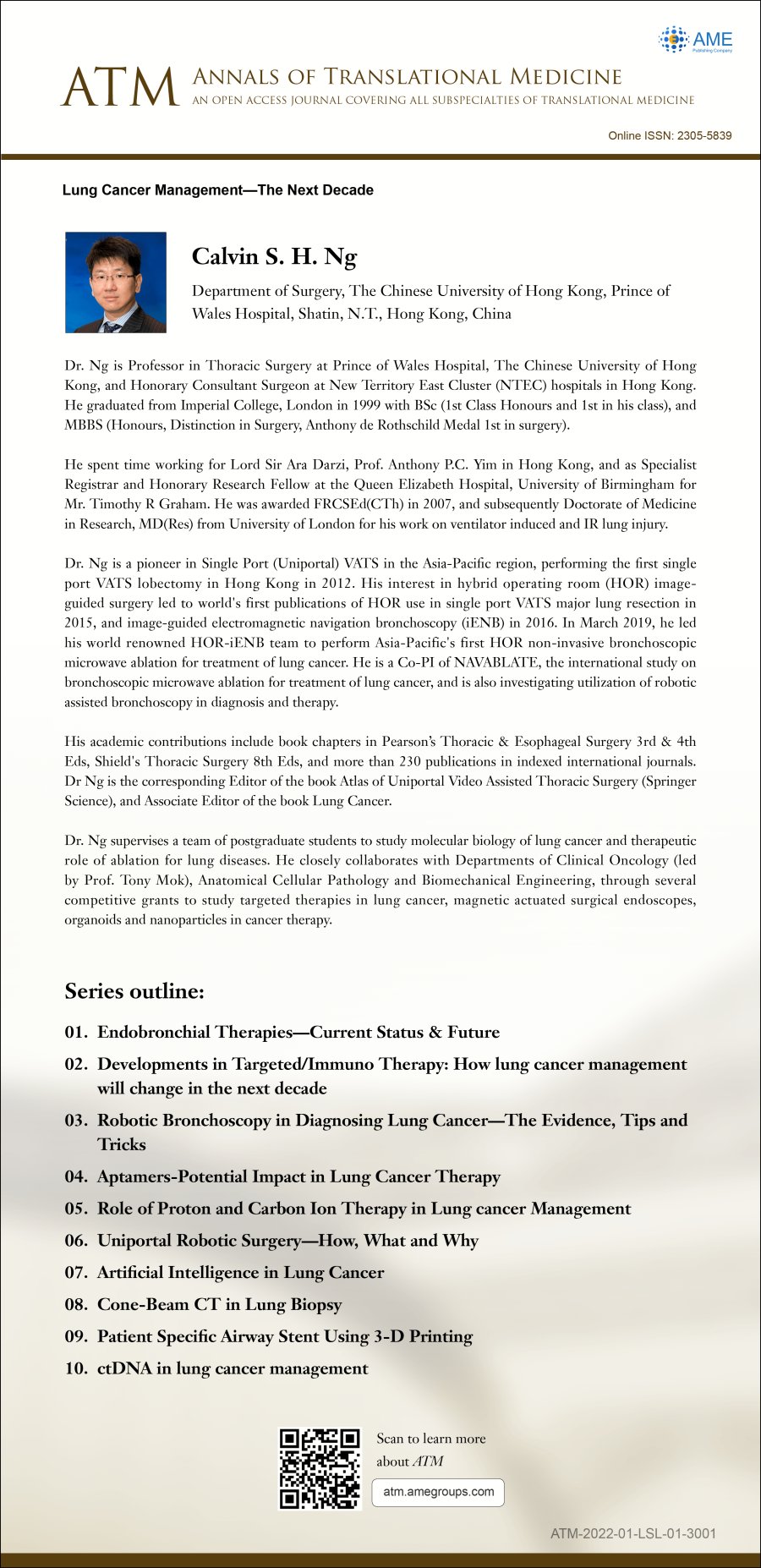 This special series on "Lung Cancer Management—The Next Decade" is edited by Dr. Calvin S. H. Ng. Lung cancer remains a disease associated with high morbidity and mortality. It is only in the past decade or so that newer forms of therapies have gradually become available. Targeted and immunotherapies, specialized radiation ion therapies; and operative approaches that are more tailored to the individual with improved precision and lower surgical trauma have been in rapid development. Early diagnosis of lung cancer at presentation or when there is suspected recurrence through artificial intelligence imaging, endoscopy platforms that allow more accurate biopsies, and circulating tumor DNA could significantly improve clinical outcomes. In this special series, world leading scientists and clinicians in their field will share their discoveries and experiences, as well as provide us with a beacon of light to guide lung cancer management for the next decade.
Dr. Ng is Professor in Thoracic Surgery at Prince of Wales Hospital, The Chinese University of Hong Kong, and Honorary Consultant Surgeon at New Territory East Cluster (NTEC) hospitals in Hong Kong. He graduated from Imperial College, London in 1999 with BSc (1st Class Honours and 1st in his class), and MBBS (Honours, Distinction in Surgery, Anthony de Rothschild Medal 1st in surgery).
He spent time working for Lord Sir Ara Darzi, Prof. Anthony P.C. Yim in Hong Kong, and as Specialist Registrar and Honorary Research Fellow at the Queen Elizabeth Hospital, University of Birmingham for Mr. Timothy R Graham. He was awarded FRCSEd(CTh) in 2007, and subsequently Doctorate of Medicine in Research, MD(Res) from University of London for his work on ventilator induced and IR lung injury.
Dr. Ng is a pioneer in Single Port (Uniportal) VATS in the Asia-Pacific region, performing the first single port VATS lobectomy in Hong Kong in 2012. His interest in hybrid operating room (HOR) image-guided surgery led to world's first publications of HOR use in single port VATS major lung resection in 2015, and image-guided electromagnetic navigation bronchoscopy (iENB) in 2016. In March 2019, he led his world renowned HOR-iENB team to perform Asia-Pacific's first HOR non-invasive bronchoscopic microwave ablation for treatment of lung cancer. He is a Co-PI of NAVABLATE, the international study on bronchoscopic microwave ablation for treatment of lung cancer, and is also investigating utilization of robotic assisted bronchoscopy in diagnosis and therapy.
His academic contributions include book chapters in Pearson's Thoracic & Esophageal Surgery 3rd & 4th Eds, Shield's Thoracic Surgery 8th Eds, and more than 230 publications in indexed international journals. Dr Ng is the corresponding Editor of the book Atlas of Uniportal Video Assisted Thoracic Surgery (Springer Science), and Associate Editor of the book Lung Cancer.
Dr. Ng supervises a team of postgraduate students to study molecular biology of lung cancer and therapeutic role of ablation for lung diseases. He closely collaborates with Departments of Clinical Oncology (led by Prof. Tony Mok), Anatomical Cellular Pathology and Biomechanical Engineering, through several competitive grants to study targeted therapies in lung cancer, magnetic actuated surgical endoscopes, organoids and nanoparticles in cancer therapy.
Series outline:
Endobronchial Therapies—Current Status & Future
Developments in Targeted / Immuno Therapy: How lung cancer management will change in the next decade
Robotic Bronchoscopy in Diagnosing Lung Cancer—The Evidence, Tips and Tricks
Aptamers-Potential Impact in Lung Cancer Therapy
Role of Proton and Carbon Ion Therapy in Lung cancer Management
Uniportal Robotic Surgery—How, What and Why
Artificial Intelligence in Lung Cancer
Cone-Beam CT in Lung Biopsy
Patient Specific Airway Stent Using 3-D Printing
ctDNA in lung cancer management
Disclosure:
The series "Lung Cancer Management - The Next Decade" was commissioned by the editorial office, Annals of Translational Medicine without any sponsorship or funding. Dr. Calvin S. H. Ng is serving as the unpaid Guest Editor for the series and serves as the Editor-in-Chief of Annals of Translational Medicine from January 2022 to December 2023.