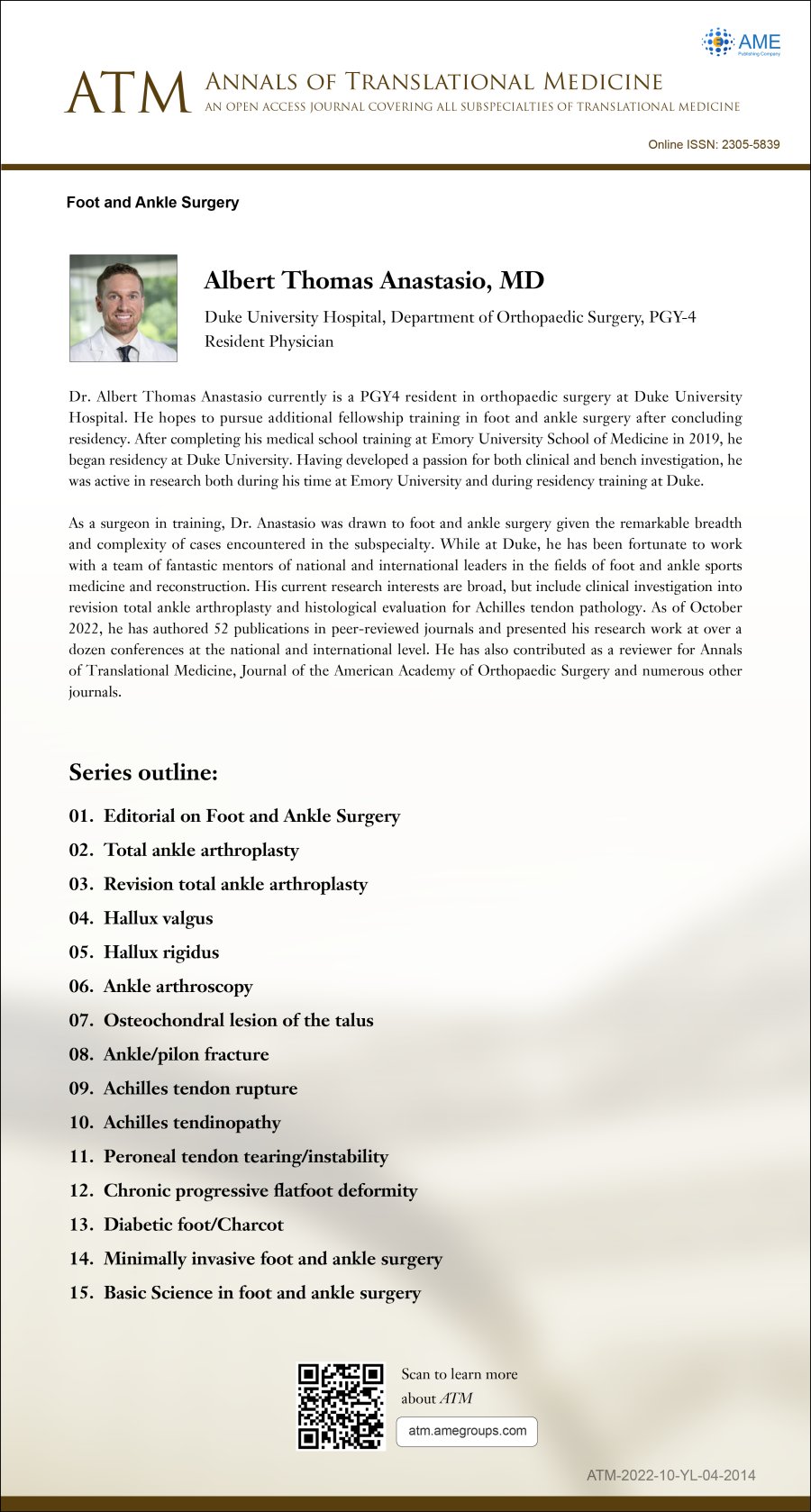 This special series on "Foot and Ankle Surgery" is edited by Dr. Albert T. Anastasio from Department of Orthopaedic Surgery, Duke University Hospital, and aims to provide an updated overview of the most recent acquisitions and future perspectives.
Albert Thomas Anastasio, MD
Duke University Hospital, Department of Orthopaedic Surgery, PGY-4 Resident Physician
Dr. Albert Thomas Anastasio currently is a PGY4 resident in orthopaedic surgery at Duke University Hospital. He hopes to pursue additional fellowship training in foot and ankle surgery after concluding residency. After completing his medical school training at Emory University School of Medicine in 2019, he began residency at Duke University. Having developed a passion for both clinical and bench investigation, he was active in research both during his time at Emory University and during residency training at Duke.
As a surgeon in training, Dr. Anastasio was drawn to foot and ankle surgery given the remarkable breadth and complexity of cases encountered in the subspecialty. While at Duke, he has been fortunate to work with a team of fantastic mentors of national and international leaders in the fields of foot and ankle sports medicine and reconstruction. His current research interests are broad, but include clinical investigation into revision total ankle arthroplasty and histological evaluation for Achilles tendon pathology. As of October 2022, he has authored 52 publications in peer-reviewed journals and presented his research work at over a dozen conferences at the national and international level. He has also contributed as a reviewer for Annals of Translational Medicine, Journal of the American Academy of Orthopaedic Surgery and numerous other journals.
Special Series Outline:

Editorial on Foot and Ankle Surgery
Total ankle arthroplasty
Revision total ankle arthroplasty
Hallux valgus
Hallux rigidus
Ankle arthroscopy
Osteochondral lesion of the talus
Ankle/pilon fracture
Achilles tendon rupture
Achilles tendinopathy
Peroneal tendon tearing/instability
Chronic progressive flatfoot deformity
Diabetic foot/Charcot
Minimally invasive foot and ankle surgery
Basic Science in foot and ankle surgery
Disclosure:
The special series "Foot and Ankle Surgery" was commissioned by the editorial office, Annals of Translational Medicine without any sponsorship or funding. Albert T. Anastasio is serving as the unpaid Guest Editor for the special series.